Introduction to Motor Control
Operations and Protection
"These troubleshooting programs are essential not only to electricians, but also to our mechanics." -
Joe Meccia, Production Maintenance, Current, Inc.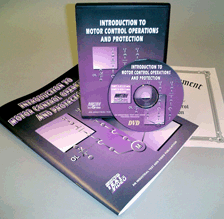 Product # 733D
One DVD Program and one Student Kit- $362

Product # 733SK
Each additional Student Kit for DVD includes one reference handbook and course completion certificate - $32

Topics covered in each DVD
Back
This program gives everyone the practical knowledge they need as well as explains the different causes of motor failures and the ways to prevent them.

Whether you're using AC or DC motors, this program will give everyone in your plant the skills to protect your equipment. This program, combined with Product # 737 (Sizing the Protection of Motors and Control Circuits), provides the best reference for safe motor operation in your plant.
A Must-Have for All Your Motors
Learn to prevent the seven most common causes of heat-related motor failure
Avoid safety hazards—choose the right contactors and starters for your application
Learn why and when troubleshooting 2-wire control can be dangerous
Implement proper arc suppression to protect against shorts and fire hazards
When a starter is wired incorrectly anything can happen—make sure it's done right the first time
Class 10,20,30 heaters—find out which one offers the right protection for your motor application