Training Validation
"I really thought I knew it all until I sat down and started answering the questions."
- John Rzeczkowski, Journeyman Electrician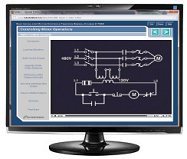 Knowledge Challenge
Watching the programs and reviewing the topics in our reference handbooks are only two steps in the training process. Now, you can prove that your people understand the material and are qualified to work with the PLCs and machines in your facility.

Our Built-in Testing Software in the CD-Rom Interactive programs challenges participants by testing their knowledge on the topics presented in the training. The questions are designed specifically for each program in the training series. The scored results help you validate how much of the material was absorbed.
Recognize Ability
The built-in testing software can be used for many purposes. You can use it to prepare and identify employees who are ready to learn before sending them on to additional advanced classes. You can also use it as a prescreening tool when hiring new employees.
Design Your Own Certification Program
Sometimes you just need a place to start. The individual student's reports can help you set up a method of certifying your employees in the areas of electrical and motor controls as well as PLCs.