Built-in Testing Software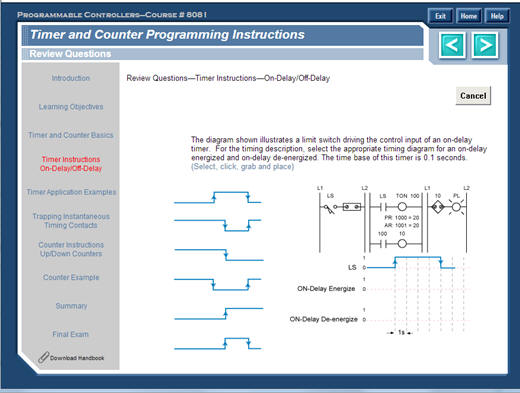 Sample Question, Features, and Benefits
Built-in the CD-Rom Interactive for the
Electrical Program, the PLC Programs.
As one of the steps in the training process, the buiot-in software lets your people sharpen their knowledge and measure their understanding of the topics presented in the training programs.
Review Questions
Use our exclusive interactive software to train and evaluate everyone going through the CD-Rom program. Just watch one of the lessons. Then, take a review quiz to how much was learned.

For each question you'll get instant feedback, and if you miss a question, you will receive a follow-up question to make sure you understand the explanation provided in the feedback.
Final Exam
Assess the performance of each person going through the programs. An interactive Final Exam consists of 20 randomly selected questions from a pool of questions.
System Requirements
The CD-Rom Interactive works in any PC.