MicroLogix™ 1000 Training Program
Available in DVD format
Anyone who has a MicroLogix™ 1000 controller
should have this program.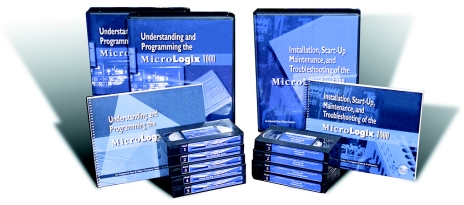 Product #ITV-1761C
Nine Program, ECS Software, and one Student Kit- $1701

This program is designed to help electrical maintenance and engineering personnel - even those without prior PLC knowledge - understand, program, and troubleshoot a MicroLogix™ 1000 controller.
A Complete Package
This training series comes with everything you need - nine videos, four reference books, and computer-based testing software. To train multiple people, simply purchase additional student kits.
Section One: Understanding and Programming - covers the basic operation of programmable controllers as well as explains the specific features of the MicroLogix™ 1000 controller.
Section Two: Installation, Start-Up, Maintenance, and Troubleshooting - covers what you need to know to get a MicroLogix™ 1000 controller-based system up and running.
Electronic Courseware Series (ECS) Software - has 855 questions on the topics covered in the videos. Once your people use this software, you can be sure they are qualified to work with a MicroLogix™ 1000 controller. Our software, however, does more than just test your people—it validates your training.
Student Kit includes:

Video Reference Handbooks - (one for each section) cover the key information presented in the videos and include tech tips, time-saving hints, maintenance how-tos, and troubleshooting
techniques.

Course Completion Certificate